All Together Now
I was particularly excited that this sculpture project is for a park. A park is a place where people and nature intentionally coincide and it is a constantly changing scene. The natural elements change according to the seasons, the weather and even the time of day. So even a static sculpture will look different with changes in the land, weather, foliage and light. Color and shadows will play a part. The other half of this environment is the people coming – all ages – alone or with others. They come to play, to exercise, to socialize and to relax under the restorative influence of nature. When I brought my model to the Taylor Park in Millburn, NJ, it attracted the attention of everyone walking by. I could see it as a background for a quirky wedding photo. A park is overall a positive place. Therefore the art in a park should reflect and enhance that positive, playful, free feeling. It should also be a tribute to the surrounding community and their values. Millburn Townshp is a thriving diverse community and I wanted to make visual and honor the concept of its people standing strongly together – in these challenging times and into the future. And perhaps as an inspiration for other communities as well.
Location: Taylor Park,
99 Main St, Millburn, NJ 07041
Initial Proposal
Millburn Township, NJ opened a call for entry for a sculpture in Taylor Park.
The Township of Millburn, in cooperation with the Cultural Engagement Diversity and Arts Committee (CEDA) and the Art Advisory Committee (AAC), is issuing this Request for Proposal (RFP) to invited artists in order to design, construct and install a three dimensional art piece in Taylor Park.
GOALS OF THE PROJECT
Recognizing that art can bring people together, the installation of public art in Taylor Park offers a space that invites positive expressions of community inclusivity and public engagement.
Therefore the purpose and obvious design is bringing people together. Especially with a year like 2020 I felt it was a needed change.
Proposed location of sculpture. East view towards Taylor Pond.
July – September 2020
My Thoughts:
I read about the history of Milburn, and to me it is a town of evolution and yet it has not forgotten it's beginnings – it's roots. During this unique time in the history of Milburn, of this country and of this world we are reminded how to cope and how to hopefully help each other. These factors make your location a perfect since it is a park, a place for peace and joy or to gather and socially connect. It is a spiritual place and a refuge whether as an individual or as a group.
I like to design for the site and not just drop a sculpture into any location. My site-specific design would take into account the 15×20 foot area in Taylor Park and surrounding area as well as the town of Milburn. During this time of the Covid-19 pandemic and political unrest I also want this piece so give a positive and fun feeling; a time of hope.
An idea came to me immediately after reading about this project and taking into account history of the past and present. See initial concept, summer of 2020 (top of page). This may not be a final concept, but I want to show that my answer to this sculpture for Taylor Park would be show color, fun, brightness, connection to the environment and to the people in the park. The piece would be open to pedestrians so they can walk in it, interact with it and become part of it. I see the piece being figurative at this current time people and diversity are important. I also included the Millburn waterwheel as the platform or gravel walking area and connection of the figures since this for has a deep connection with the history of the Millburn. Plus in the horizontal or landscape position it conveys a labyrinth shape and thus a meditative feel. Circles conveys movement, evolution and life.
I can see yoga, tai chi or poetry events, just to mention a few, to be part of this space, in or surrounding the artwork.
I hope you consider honoring me a RFP. I would love to give something back to your community and your park — something positive that will inspire and give joy. I will supply the committee all details to execute as well as a 3D model, see figure 2 example of one my previous site-specific models.
Execute above the line to innovate. Demonstrate customer journeys with a goal to use best practice. Take user experience with a goal to gain traction. Lead benchmarking and then get buy in.
Engage mobile-first design to, consequently, come up with a bespoke solution. Growing analytics so that as an end result, we make the logo bigger. Target dark social and then be CMSable. Utilising above the line in order to build ROI.
Amplify growth hacking and then build ROI. Growing stakeholder management and possibly make the logo bigger. Target agile so that as an end result, we take this offline. Take a holistic approach in order to disrupt the balance. Demonstrate growth channels with the aim to come up with a bespoke solution.
Keywords and key phrases I cultivated for this artwork:
| | | | | | |
| --- | --- | --- | --- | --- | --- |
| People helping people | Uniting | Things change, but continue | Growth | Connection | Alone & Together |
| Interactive | Color | Earth and Sky | Movement | Evolution | Humanity and Nature |
| Open circle – Welcoming – Not a closed circle | Rising up & still grounded | Different colors and races, but we are one | Inviting | Waterwheel walk | Cycle / circle / continuous / never ending |
| Labyrinth feel | Relaxing | Happy | Positive | Upbeat | Up tempo |
Summary:
The Taylor Park Art Installation Project has to do with people and community; this is what makes it exciting for me and why I want to participate in developing designs and final solution.
I meet the criteria for this proposal because of my thirty-five plus years experience in the visual arts in various scaled projects. My range of visual solutions is diverse, working in fine and commercial fields and two- and three-dimensional mediums. This particular project will need all the above sensitivities and abilities. My artwork will reflect the site and the theme of an expanding diverse community, and connect them within the surrounding environment.
My experience in varying project sizes over the years and my desire to handle this large complex project will ensure a successful completion at Taylor Park. I am also very organized, responsible and a deliberate communicator. I keep all parties concerned updated with project concerns, details and deadlines. It is my goal to reach a successful project conclusion by not missing or leaving out any items.
October-December 2020
After being selected as 1 of 5 finalist a thorough RFP was begun. That included site visits and vendor visits. As well as acquire cost estimates
The outside vendors I would need began with a pattern shop for creating an original and/or mold of the figures and the small millwheel. A fiberglass fabricator would also be needed to create the final pieces. A painter to paint the fiberglass and a mason for the platform are required. Millburn Township DPW would also be integral during ground preparation and cleanup. Their participation would be significant and very much appreciated.
Pattern Shop
They were experts with product design and development as well as create the pattern and mold for the sculpture casting. Their 3D CAD drawings and creations were critical in getting the project moving forward correctly.
Fiberglass Fabricator
They also had to create a mold, but also did the final building of the figures and small wheel.
The painter was a local contractor and at this time a mason was not yet confirmed.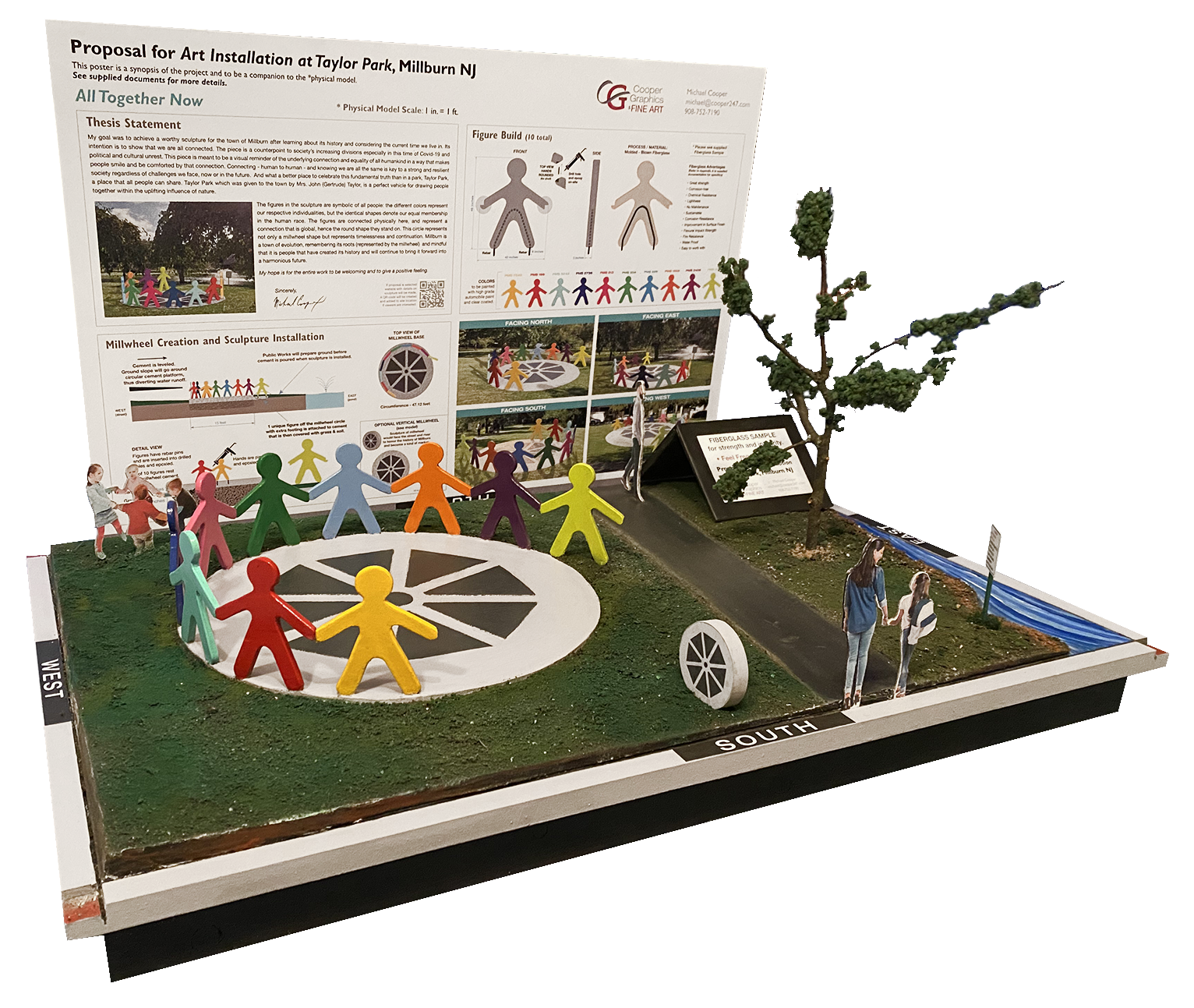 Proposal for Art Installation at Taylor Park, Millburn NJ
Title of work is "All Together Now".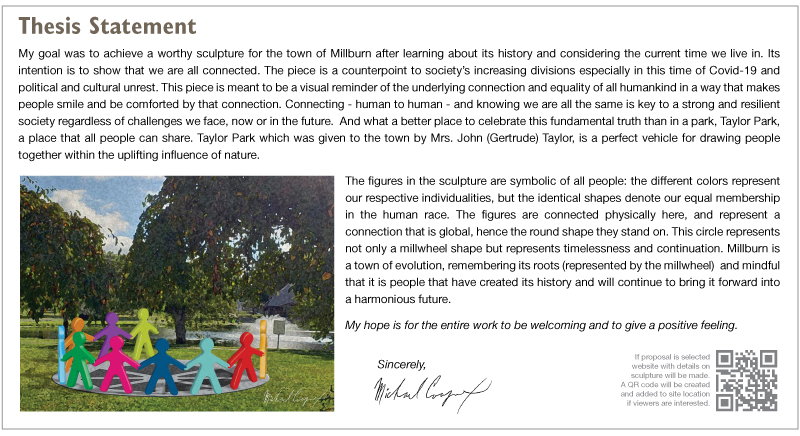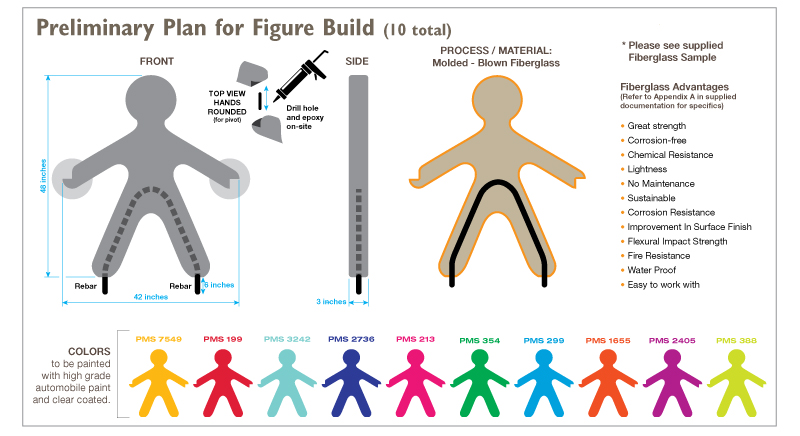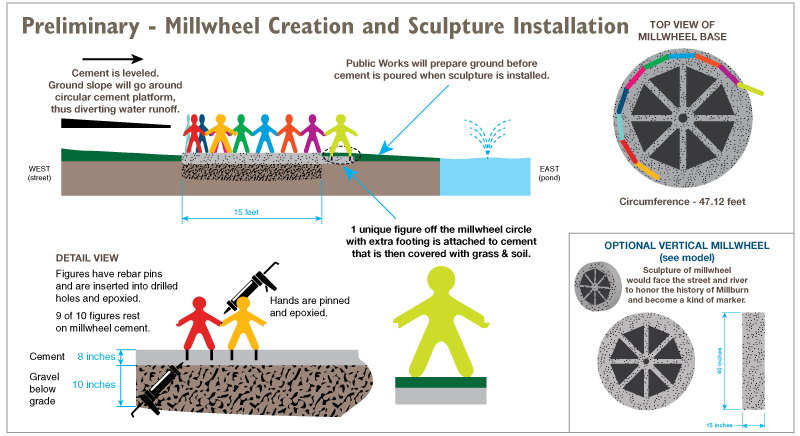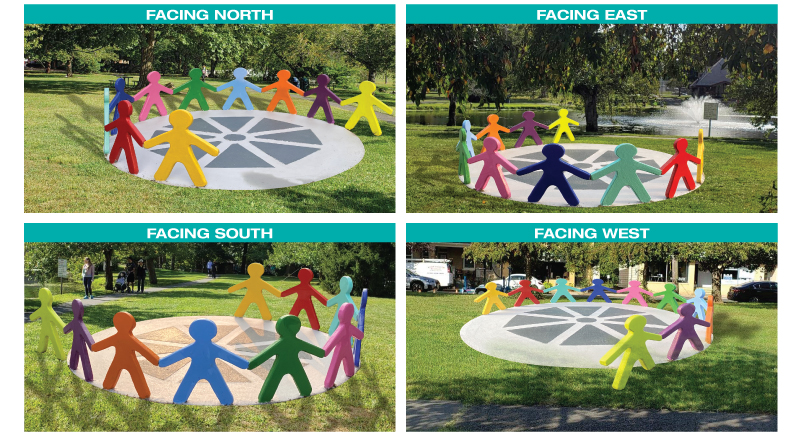 Pre-Preparations
Performed by Cooper Art Works LLC.
Pattern and Mold Making
Performed by Bassler Pattern Works. The Bassler team worked closely with Cooper Artworks LLC on drawings and details. Aaron Bassler and family did a superb job handing all requests to a successful end.
Bassler Pattern Works integrates product design, engineering, prototyping, and manufacturing, making it massively efficient to continue development of the client's plan. Their abilities that now thrive in a 3-dimensional world were built upon the experience, skill, and talent of traditional draftsman. Their visual impact ignites when we combine technology with an artist's touch to add realism and quality.
Fiberglass Fabrication

Performed by Edon Fiberglass Fabrication. The Edon team worked closely with Cooper Artworks LLC on requests. Andrew Kleeman and his staff did a profession job on the figures and small wheel fabrications.
For 50+ years, and in all 50 states, the top builders, specifiers and architects have relied on Edon for their architectural fiberglass – from conventional columns, cornices, and domes, to extraordinary specialty projects for the arts and entertainment industries. Edon enters its second 50 years with an augmented leadership team and a revived commitment to cutting-edge fabrication methods and materials. If you can dream it, we can fabricate it!
Form Construction for Cement Pours
Performed by Cooper Art Works LLC.

Site Preparation
Performed by Millburn Public Works. Jim, Michael and John and their staff did a great job with site preparations.
Forming

Performed by Shamrock Concrete and Masonry.
Shamrock clients utilize us for a range of projects from demolition & excavation, structural footings and foundations, decorative concrete, all types of flatwork, sidewalks, driveways and much more. We can help bring any project you have in mind to life. Our portfolio of work in both the residential and commercial industry illustrates our expertise in the trade.
All aspects of custom outdoor design & build
Various types of decorative concrete
Epoxy, coloring, stamping & staining
Basement & garage floors, French drains & waterproofing
First Pour of Cement
Performed by Shamrock Concrete and Masonry.

Second Pour of Cement
Performed by Shamrock Concrete and Masonry.

Visit 2 Days After 2nd Pour
Cooper Art Works LLC
Painting
Performed by Peter and Charity Ritter.
Figures Installation
Performed by Cooper Art Works LLC and Shamrock.
Pavers and Benches Installation
Performed by Millburn Public Works.
Final Clean Up and Details in Preparation of Ribbon Cutting.
Performed by Cooper Art Works LLC.
Ribbon Cutting and Completion Articles
August 12, 2021
"Millburn Hosts Ribbon-Cutting Ceremony for 'All Together Now' Sculpture". Read More
"Millburn Township Invites Residents to "All Together Now" Sculpture Ribbon Cutting". Read More
Millburn-Short Hills Art Advisory Committee – Sculpture "All Together Now" added to Taylor Park. Read More
Video of Ribbon Cutting at Taylor Park, Millburn, NJ. August 12th, 2021.